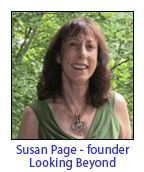 SIGN UP NOW FOR OUR WEEKLY PSYCHIC NEWSLETTER AND PSYCHIC READING DISCOUNTS – OPT OUT ANYTIME.
Hello! I am Susan Page and I founded Looking Beyond Master Psychics in 1989. I want to share something amazing with you! It's the Looking Beyond Psychic Newsletter and Psychic Reading discount.
The Looking Beyond Psychic Newsletter provides articles, stories and even affirmations and poetry. We hope you will enjoy them and they may even spark something new in you. Perhaps a new thought or way of thinking about things.
For me our Psychic Newsletter is not only the words we write. It is an energy exchange between you and us. It is us reaching out to you in a way that we hope is helpful and loving. We want to make it exciting, fun and inspirational. It also may include discounts and special offers for Psychic Readings only available to you, the wonderful people who care to be connected with us in this way.
Sign up for Psychic Reading discounts from Looking Beyond Master Psychic Readers now by clicking the button below! We don't ever give or sell your personal information to anyone and you can opt out at any time.
I hope you enjoy the Looking Beyond Master Psychic Newsletter
Call 1-800-500-4155 now to speak with Looking Beyond Master Psychics