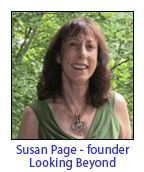 Thank you for visiting the Looking Beyond Master Psychics Terms and Conditions page. (Looking Beyond, Inc.) We value your patronage of our Psychic Reading service very much and strive to provide the best Psychic Reading service possible.
We have been providing extremely accurate clear caring Psychic Readings since 1989. In those 26 years we have created some wonderful relationships with our important Psychic Reading clients. Call 1-800-500-4155 now for your very accurate Psychic Reading.

Please find the Looking Beyond Master Psychic Reader website Terms and Conditions.
1. Guarantee
We are so confident you will be pleased with our service. We offer the following satisfaction guarantee: If you are unsatisfied with your last live Psychic Reading for any reason and notify Customer Service within 24 hours of the reading in question, we will issue the Reading minutes back to you and connect you with a reader that is a better match for you, -or- we will refund your money back to you. It's your choice.
We really want you to be satisfied with your Psychic Reading. If you are unhappy with a reading you are receiving, just end the call ASAP and contact Customer Service immediately at 1-800-500-4155.
Looking Beyond, Inc. reserves the right to refuse service or deny credit/refunds based upon abuse of this Satisfaction Guarantee such as multiple credit/refund requests or utltization of the entire length of Psychic reading.
2. Service overview
The services provided by Looking Beyond, Inc. are for entertainment purposes only. The information provided by Looking Beyond, Inc. should not be used in place of information given to you by professional providers; please always use your own good judgment in making all your decisions. You must be 18+ years old to use the services of Looking Beyond, Inc. Looking Beyond, Inc. connects our clients with gifted psychics specializing in many areas using including Clairvoyance, Channeling, Tarot, and many other methods, gifts, and disciplines.
3. Indemnification
Looking Beyond, Inc. is a California corporation headquartered in San Jose, California. You agree to indemnify, defend, and hold harmless Looking Beyond, its owners, employees, contractors, agents, and attorneys against any and all liabilities, claims, actions, suits, proceedings, judgments, fines, damages, costs, losses and expenses (including settlement costs and/or reasonable attorneys' fees) arising from or relating to your use of this website and company services.
4. Choice of Venue
This agreement shall be construed in accordance with and governed by the laws of the State of California, Santa Clara County. Any and all disputes arising out of this agreement or the services referenced herein shall be resolved by mediation, and if such mediation is unsuccessful, by binding arbitration under the auspices of, and pursuant to the commercial arbitration rules of, JAMS before a single arbitrator at its San Jose, California office.
5. Customer
Feel free to contact Looking Beyond customer service by calling1-800-500-4155 (U.S.) 1-408-243-4080 (International ) or mailing us at: Looking Beyond, Inc. 15466 Los Gatos Blvd. Suite 109-349 Los Gatos, CA 95032.
All readings and information during a reading with our Master Psychics are completely confidential.
Thank you for visiting the Looking Beyond Master Psychics Terms and Conditions page.