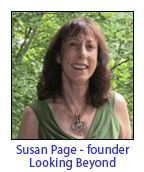 Providing expert live psychic readings by phone since 1989, specializing in your love & relationship questions. We value you, and know you expect extremely accurate, clear answers to all of  your questions. We are proud and excited to provide you with the gifted Master Psychic Readers you are looking for.
I'm Susan Page and I founded Looking Beyond Master Psychics in 1989. I personally test and choose each Master Psychic Reader at Looking Beyond to ensure they provide the extremely accurate answers you need. The readers use their psychic gifts and abilities in ways that will truly delight and amaze you! Our Master Psychics are Clairvoyants, Clairaudients, Channelers, Reiki Masters, Tarot card readers, Numerologists, and Astrologists and have a variety of other psychic skills as well.
Getting live psychic readings by phone can be invaluable to you in your daily life. Not sure how to handle a situation wit ha loved one, friend or coworker? Then ask a gifted Master Psychic Reader for insight into your situation and get the guidance and clarity you need. This can give you confidence allowing you to feel great and know what you might want to do next.
Experience live psychic readings by phone for yourself from an expert Master Psychic Reader. You will be very happy you did. A customer care representative is standing by now. Sooth your mind and your soul! Your satisfaction is guaranteed. – Please call now 1-800-500-4155.
Warmest Regards, Susan Page!
Founder, Looking Beyond, Inc.